Adhesive tester AT101 is an instrument for estimating time-dependent characteristics of adhesives, e.g. setting time.
Mechanism for fast installation of the sample substarte with tested adhesive allows easy operation.
Changeable indentor can be made of different materials and imitate contact against sample on point, line or area.
A changeable set allows also convert the instrument into tensile test mschine for microsamples.
Control software allows testing under static conditions and dynamic measurements that show the kinetics of the adhesive setting process. User defined scripts add flexibility to the measuring process when specific testing modes are necessary.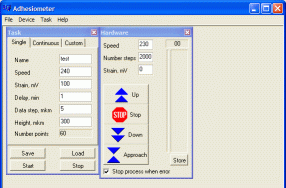 Control software for adhesive tester AT-101 is a 32-bit Windows application. It runs under Windows 98se and hugher operating systems.
The control software provides all preliminary tunings and settings necessary for the tester operation.
Operator can watch the measuring process progress on the screen.
Acquired data are saved in files of special format that can be then processed, visualised (in 2-D and 3-D presentation) and analysed with a specialized software package SurfaceXplorer or exported in text format to work in other data processing programs (e.g. MS Excel).