Thermostimulated current tester ST1

DESCRIPTION

The device is designed for measurement of thermostimulated current (or thermostimulated depolarization) in dielectric materials.
The measurements are performed in a heating cell equipped with the help of high-sensitive system of original design.
The device is controlled from a host PC. The control software provides a possibility of user-programmed heating.

FEATURES

Measuring modes:
- Constant heating current;
- Heating with the heating current programming;
- Heating to the preset temperature.
Recorded diagrams:
I=f(T), I=f(t), T=f(t), I=f(t) + T=f(t)
Sample size:
Diam. 15 mm, thickness up to 10 mm
Range of the measured current:
+200 pА
Maximum temperature of the cell heating:
not lower than +400 °C
Sample heating temperature:
up to 220 °C
Heating rate:
Adjustable (average maximum 8 °C)
Maximum heater power:
96 W (max current 1.7 A)
Cooling system:
Embedded air fan
Overall sizes:
Measuring unit - 130x145x190 mm (w-d-h), weight 2,6 kg;
Control electronic unit - 200x290x82 mm (w-d-h), weight 2 kg
Power consumption:
not more than 240 W
Host PC:
(not included in the delivery set)
Not less than Celeron® 1700, RAM 128 MB, HDD 40 GB, Windows® XP SP2, free USB port.
Software:
A specialized control software included.

DELIVERY SET

| | | |
| --- | --- | --- |
| Code | Name | Q-ty |
| ST1-010 | Measuring unit. | 1 |
| ST1-020 | Control electronic unit with set of necessary electrical cords and cables. | 1 |
| | OPTIONAL: | |
| ST1-090 | Set of changeable electrodes. | ask |
Note:
1 Base set includes also the control software (for Win32) and user manual.


* Above pictures are not in same scale.
** Host PC is not included in the delivery set.

SOFTWARE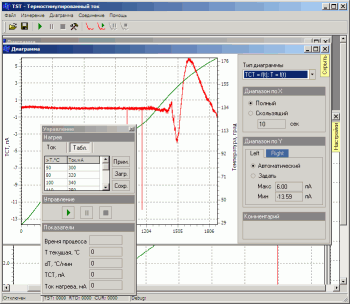 Control software for adhesive tester ST1 is a 32-bit Windows application. It runs under Windows 98se and hugher operating systems.
The control software provides all preliminary tunings and settings necessary for the tester operation.
Operator can watch the measuring process progress on the screen.
Acquired data are saved in files of special format that can be then processed, visualised (in 2-D and 3-D presentation) and analysed with a specialized software package SurfaceXplorer or exported in text format to work in other data processing programs (e.g. MS Excel).