An automated dipping mechanism

DESCRIPTION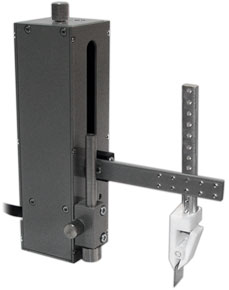 Automated dipper unit VT-04
An automated dipper unit VT-04 serves for vertical translation of an object fixed on arm. The dipper unit can be, for instance, employed for automation of multicycle dipping of a substrate into vessel with liquid at the layer deposition from solutions.
The dipper unit design provides simple routine for an object fixing in a specialized clamp. The clamp has five degrees of freedom to provide the object position necesssay fot user. A possibility of manual rotation of the arm drive axis is supplemented with a possibility to position all the dipper unit on a vertical stand that provides vertical adjustment and rotation relative the stand axis.
For the dipper unit positioning in horizontal plane relative base, XY positioning stage can be employed together with it. Stepper motors of both the dipper unit and XY positioning stage can be driven from the same control program run on host PC.
Dipper unit VT-04 is unified with driving mechanism of microdoser DT-03 that allows their mutual conversion by simple change of the unit front panel.

FEATURES

Drive:
Step motor; a possibility to rotate the driving shaft manually
Full motion range of the arm:
85 mm (max 86 mm)
Controllable positioning step of the arm:
1.25 micron (0.15625 micron at the step splitting)
Maximum weight of fixed object:
50 g
Arm length (from the unit case to mount point):
38; 48; 58; 68; 78 mm
Additional accessories:
— PTFE clamping holder for quick substrate fixing on the dipper lever; the substrate thickness up to 4 mm;
5 degrees of freedom;
— clip fastening on vertical rod (rod diam. 8 mm);
—

NEW!

option: changeable front panel for conversion of the dipper into microdoser (see DT-03)
Control:
From autonomous controller; manual control by buttons on the controller, extended control facilities available in a unified software at the controller connection to host PC (via USB port). The controller unit enables control over three stepper motors. The control software allows programming the dipper arm motion including that with use of cusotm scripts.
Power supply:
220 V 50 Hz (control voltages: 0, +15 (<24) V)
Overall size:
Dipper unit: 50x65x191 mm (w-d-h) /without arm/
Controller unit: 138x195x82 mm
Weight:
Dipper unit: 1.1 kg; Controller unit: 0.8 kg

DELIVERY SET

| | | |
| --- | --- | --- |
| Code | Name | Q-ty |
| VT-04-010 | Dipper unit (a vertical translation stage) | 1 |
| VT-04-020 | Autonomous controller | 1 |
| VT-04-030 | Set of conneting cables | 1 |
| VT-04-040 | Control software (for Win32) and operation manual | 1 |
| | OPTIONAL: | |
| DT-03-015 | Changeable front panel for the dipper conversion into microdoser (see VT-04) | 1 |

SOFTWARE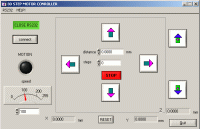 Control software for dipper VT-04 is a unified program for driving three stepper motors. It is a 32-bit Windows application that runs under Windows XP SP2 and higher operating systems.
The software provides control over the stepper motor speed, motion range (in steps of the stepper motor or in mm) and motion direction.
The program can be employed for driving three stepper motors. If the device is additionally equipped with XY positioning stage, all the three axes motions can be automated.
As an alternative for the unified program, control program for Langmuir—Blodgett trough can be employed in which custom scripts can be used to control the mechanism motion.
Minimal configuration of host PC (not included in the delivery set): Celeron® 1.7 GHz, RAM 128 MB, HDD 40 GB, VRAM 64 MB, monitor 1024x768x32 bit, MS Windows® XP SP2, free USB port.