An automated stage PT-03 serves for object positioning in a plane. The object platform motion is managed either directly from the controller by buttons on its front panel or from program run on PC. Knobs for manual positioning present. The stage can be employed for object micropositioning in microscopes and for other applications.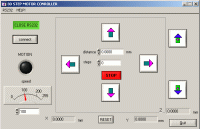 Control software for PT-03 is a unified program for driving three stepper motors. It is a 32-bit Windows application that runs under Windows XP sp2 and higher operating systems.
The software provides control over the motor speed, drive power (coil curret), platform motion range (in steps of stepper motor or in mm), setting of the motion direction and movement of the object platform to the set position (to the point with the set coordinates within the mechanism range).
Minimal configuration of host PC (not included in the delivery set): Celeron® 1.7 GHz, RAM 128 MB, HDD 40 GB, VRAM 64 MB, monitor 1024x768x32 bit, MS Windows® XP, free USB port.